<! ---------------------------------------------->
Special attraction: wine cellars with well-known wine from the Tokai region. The village Černochov is placed in the southwestern skirts of Zempínske vrchy mountain range, surrounded by vineyards of Tokai and beautiful meadow in the altitude of 175 m above sea level.
<! ---------------------------------------------->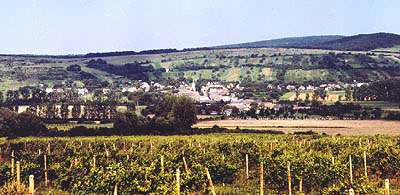 The first document concerning the village originates in the year 1298 and the first notice about viniculture is from the year 1715. The village had been known for production of excellent wines for centuries and belonged to several landowners. It was the Rozgonyi family in the 15th century, the Páloczi family in the 16th century, the Order of st. Claire from Šárošpotok and the Perényi family, the Walis family in the 19th century. The village reached the highest population of 488 inhabitants in the year 1869, who were mainly Hungarians. In the presence, the village has 226 inhabitants. A plaque epidemic stroke the town in the year 1663 and cholera in the year 1831. It was burnt down in the year 1927.


Places of Interest


The town dwellers are employed in agriculture and especially viniculture. The surrounding nature offers occasions for picking forest fruits and deer hunting. In the village, there is a kindergarten, library and a culture house. A clasicisstic church of the reformed Christian church was built in the year 1793, its tower is from the 19th century and together form an architectural dominant of the village. The village is successfully represented by a football team, which is in the 2rd district class.

The voluntary fire-brigade has been developing its activities since May 14th 1890. It has been taking part in district competitions for the last 15 years and it always takes leading position. Village symbols (coat-of-arms and banner) have been consecrated in August of the 1998 when the village celebrated 700th anniversary of the first written notice. This was done in an ecumenical worship then followed a cultural program of folklore groups and a festival.