The first reference of Dolna Micina dates from 1402.
It suposes that the village was created by extending the original village of Micina in the early 14th century. The historical path connecting the town of Banska Bystrica and Podpolanie goes through Dolna Micina. The village belonged to two wealthy families - Beniczkovci and Badinyovci - in the times of feudalism.

There is a crossroad in the southern part of the village. The right road leads to Zvolen (through Lukavica, Velka Luka and Sliac) and left road goes to Cerin (and further to Zvolen, Dubravica and villages in the Banska Bystrica region).
Points of interest, remarkables and rarities

Beniczkovci built the manor house (it dates from the late 16th century) which is situated above the village, on the hill. It is three-floor building built in rennaisance style which has four round bastions and arcadia dating from 1667.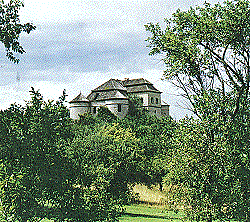 manor house
Dolna Micina has always been an agricultural village. Micinske Travertiny - a natural creation is situated in the area of the village. The natural mineral well is also a characteristic feature of this village. Some pieces of ceramics were found in the village and they date from the early Stone Age.
Translation: A.Bendíková