Town Fižakovo is situated in the southeastern part of the Lučenec district, 15km away from the frontier crossing with Hungary. Number of inhabitants oscilates over 10 000 inhabitants. Although Fižakovo belongs to smaller towns, its history is very rich.
The first written mention of the settlement with the right to toll comes from the year 1246, therefore in 2001 we will celebrating the anniversary of 755 years. Fižakovo has become royal town in the Medieval Age and together with the castle belonged to some important aristocratic families of Hungary (Matúš Čák, Bebeks, Perénys, Kohárys, Coburgs).
Points of interest, remarkables and rarities

The Castle of Fižakovo is situated on a stone hill in the middle of the town and forms its dominant. It consists of three parts: upper, central, lower.
In the 1554 the Castle was conquered by the Turks and almost 40 years was a seat of the Fižakovo´s sandjak to which belonged most of South Slovakia. The Turks fortified walls of town, built the Turks spa, flower and fruit gardens, shops, handicrafts manufactories, improved Castle´s water-pipeline, a well and a cistern.
In the 17th century the Castle of Fižakovo became seat of committees of Novohrad, Hont, Heveš and Peš. In the year 1682 garrison of the castle defended Fižakovo against the Turks army. Because of betrayal of commander of castle guard the Turks got the castle and then it was burnt out. Town was settled gradually, but the castle has been still in ruins.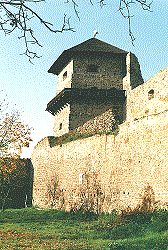 The Castle of Fižakovo
In the 1970s of the 20th century the Institute of monument´s care began with reconstruction. In the former decade town´s representatives were concerned with this important historical and cultural monument and thanks to financial aid of PRO Slovakia and the State environment fund and financial resources of town it came to reconstruction of the Bebek´s tower, it were built up an educational path and access routes to the highest situated places at the Castle.

The Castle is open for public, especially for tourists who have visited our town since the year 1993. During the main tourist season from April 1 to September 30 with a tourist guide.
During this period the castle is open daily except Monday from 10 a.m. to 6 p.m. Visitors of the Castle can know its history and town and can visit the Town´s museum where are located many important artefacts of town´s history and its surrounding.
Translation: Hošková