The village of Horna Micina is situated on the way to Podpolanie. The first reference of the village dates from 1293.

The village church (the Church of St. Michal) is a centre of the community life. It dates from 13th century and its baroque altar dates from 1700. The figure wall painting in the church dates to Middle Age. The roof of this church is quite unusual, it has a pyramid shape.

There is another church in the village which was built in 1785 on the site of old rennaisance manor house from 16th century.

Jan Chalupka, a famous Slovak writer, and August Horislav Krcmery, a well known music composer, were born in Horna Micina. The life of Samuel Hojc, Samuel Roznay and Adam Chalupka is also connected to this village.
Points of interest, remarkables and rarities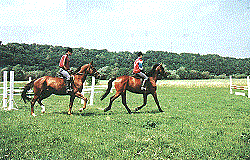 horse ridding club
The village offers a few cultural events and sporting facilities which are suitable for skiing, horse riding and walking.
Translation: A.Bendíková