Modern village Krakovany in the Slovak Republik consists of two former independent villages, Krakovany and Stráže.
The first written mention of village Krakovany originates from the year 1113 in so-called
"Zoborský pergamen"
, where were were listed all assets and people of the Zobor monastery following the instruction of the Hungarian king Koloman.
Life of community in the village is deep-rooted, its higher forms were developed at the turn of this century influenced by sacral creation. By this way were founded some strong associations of amateur theatricals, brass-music of the professional level at that time. There were founded some associations oriented on sport.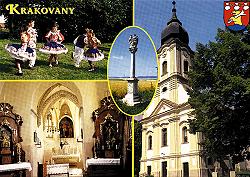 Krakovany


Nowadays the generations are proud of their origin. Not by chance the village is famous for its high level of agriculture, of very good results in the sports and folklore area.

The cultural village centre develops many activities and organise regular Hobby meetings welcomed mainly by collectors of coins, medals, bank notes, stamps, post cards, porcelain, pictures, clocks, weapons, minerals and other antiquarian attractions.

To traditional undertaking belong folklore festival organised year after year, folklore appearance of local folklore group LUSK with musical group BOROVIENKA. For the domestic mainly for the foreigner are organised some artistic programs aimed at old folk customs of our region.
The village - the primary villages, since the year 1944 under the name Krakovany are from their foundations to these days of agricultural character, where cereal crop and fodder crop are grown. Inhabitants have a very good relation to this manner of life.




Curiosities, interests, sights



The primary settlement of this territory is much more elder following the finds of the Stone period. The finds on the area of the former brickworks are very rare.

It is considered so-called

"the Strážovský treasure"

as a well-known finds. Alas only one part is saved in The National Museum in Bratislava.

Historical dominant of the village create two Roman Catholic churchs.

The Church of St Nicolaus

in Krakovany was built in the 18th century but it had been proved in historical dokuments there might have stood an old church from the 11th century in the village which broke down in the 18th century and this contemporary church was built at its place.

The Church of St Gál

in Stráže originates from the 14th century and retains its original character up to this day.

These mentioned dominants of the village are registered in a list of national cultural monuments in our mother country.