<! ---------------------------------------------->
Kremnica is one of the Middle Age towns which in its hay day was the centre of attention for many Kings and Queens. They were interested in the gold mines that are very typical of this town. On November 17th 1328, King Karol Robert from Anjou vested "CREMNYCHBANA" with the prestigious award of being a free King's mine and coin town. He also established a coin workshop here which was in use for over 670 years. Coins from Kremnica, called Kremnicke dukaty of floreny, are today one of the most valuable coins in Europe.

Mining and the coin making industry brought much wealth and glory to Kremnica. The town was called "Golden Kremnica" because of its highest gold production in The Hungarian Empire.

The past glory of Kremnica can still be seen in the well preserved architecture. In 1950, the historical town centre became The Town Monument Reservation. It includes Temple with church, Baroque fountain and Mighty Baroque Plaque Column decorated by sculptures of Dionyz Stanetti – a famous sculptor of the mining towns.

The oldest part of Kremnica can be found by searching out Kremnicky castle which is another National Cultural Monument. The most impressive part of this castle is The Church of St. Katarina. The historical centre with its monuments and the castle are the typical examples of gothic urbanisation.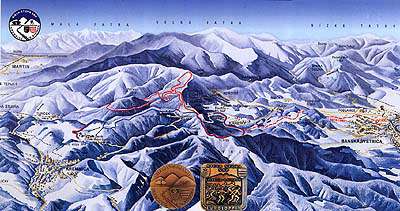 There are the Kremnicke mountains that are famous for their ski-centre and for the more ambitious skier a skiing competition called "Biela Stopa SNP" (The White Footprint).Kremnicke pohorie - trat BS SNP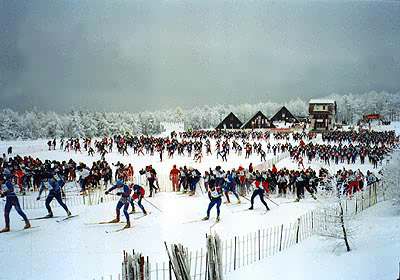 Biela stopa SNP
HOTEL CENTRÁL
This hotel as its name suggests is located in the town centre and has 35 beds where the weary traveller can spend the night.

There are also luxurious single and double-bed rooms, apartments with telephone, television, satellite TV and private bathroom.

The hotel offers a pleasant atmosphere and benefits from a café, restaurant, terrace and lounge. It also boasts its own sauna and congress hall for business meetings, seminars, training courses and miscellaneous social events.

Telephone number: +421-45-6744210
Fax number: +421-45-6744214
Mobile telephone number: +421-903-518066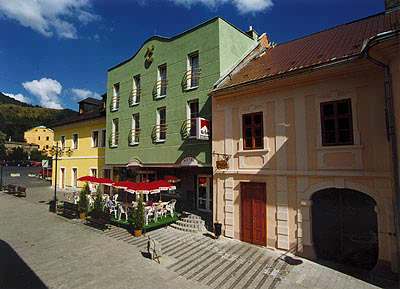 hotel Central C
Hotel Veternik
Hotel Veternik is located 100 m from the historical centre, close to the sports centre and is able to offer a wide range of services. Its staff are able to offer the guests an excellent service guaranteeing your full satisfaction. It has got apartments, double-bed rooms, and can accommodate a maximum of 52 people. Each room has its own shower or bath, TV, radio and other equipment to make the visitors stay most pleasurable. There is also a restaurant that can cater for up to 58 people, offering a extensive menu; café; terrace; garden with barbecue equipment as well as secured parking area for its guests.



Contact us at:
Hotel Veternik
Veternicka 117/17
Kremnica
Telephone number:
+421-45-6742709

Fax number:
+421-45-6742185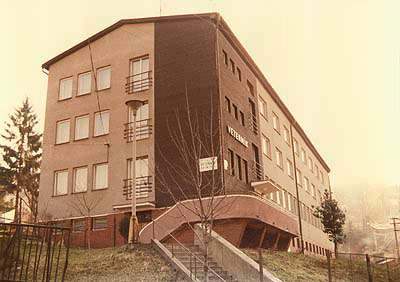 hotel Veternik

Skalka – The Tourism Centre
The Kremnicke mountains represent a geomorphological structure of volcanic origin which lie in The Western Carpatia. The highest peak is called Flochova and rises 1318 m above sea level.

Recreational area Skalka is situated 1232 m above sea level and has very suitable conditions for both summer and winter walking and hiking. There are plenty of marked forest paths that can be easily followed in addition to a host of bike trails. There are also 15 kilometres of skiing tracks which connect Skalka with another recreational area called Krahule and 42 kilometres of "Biela Stopa SNP" tracks are used not only by professional skiers but also by the general public. "Biela Stopa SNP" stadium has organised many important national and international skiing competitions since 1974. One of them takes place every other Sunday in February each year and since 1994 it has been accepted as a member of European long distance ski running competition – EUROLOPPET.
You can find accommodation and food services in:
| | |
| --- | --- |
| Mountain Hotel FORTUNA | telephone number: +421 45/6742118 |
| Mountain Hotel MINICIAR | telephone number: +431-45-6744124 |
| Mountain Cottage LIMBA | telephone number: +421-45-6742845 |
| Mountain Hotel SKALKA | telephone number: +421-45-6742219 |
| Cottage in Skalka | telephone number: +421-45-6742030 |
Ski-hot line telephone number +421-905-314204 enables you to find out about ski conditions in this area.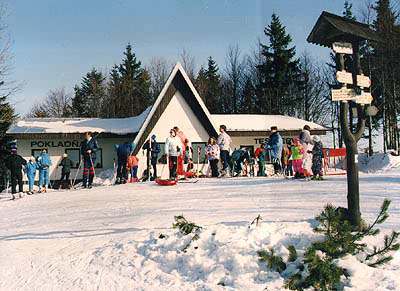 Kremnica Skalka

The Museum of Coins and Medals – National Bank of Slovakia
This museum was established in 1890 and is one of the oldest museums in Slovakia. Since its conception it has focused its attention on numismatic collections and it offers its visitors the only special numismatic exposition in Slovakia and historical exposition of mining industry in Kremnica too. This museum is from 15.october 2000 to 31.december 2002 closed due to reconstruction.
In 1996, after 20 years of reconstruction work, the museum opened and held many exhibitions including:-
Baroque sculptures
Bells and bell makers of Kremnica
Archaeological research of Kremnicky castle
Protection of the town
The exhibition is connected with the visit of Church of St. Katarina. This church, with neo-gothic interior and outlook tower, is known for its fabulous organ concerts. There is another exposition of guilds called "The Beauty of Old Crafts" in The House No. 32/38 and some short-term exhibition of painting in the gallery located in The House No. 33/40.
Contact us at: NBS – Muzeum minci a medaili (The Museum of Coins and Medals)
Stefanikovo namestie 10/19
Kremnica
Secretariat – telephone number: +421-45-6742121
Numismatic exposition – telephone number: +421-45-6742696
Town`s castle – telephone number: +421-45-6743968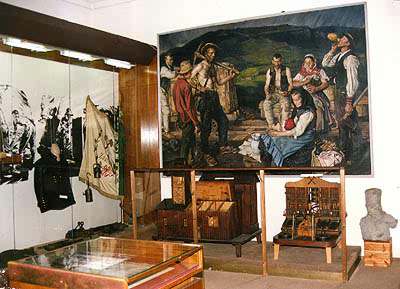 Pohľad na hlavnú expozíciu mmm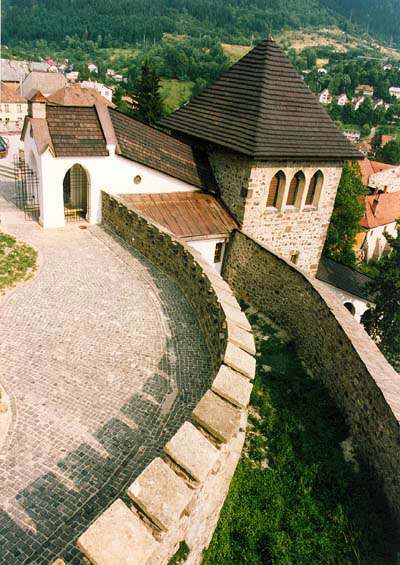 Pohľad na schodišťovú baštu hradného areálu s opevnením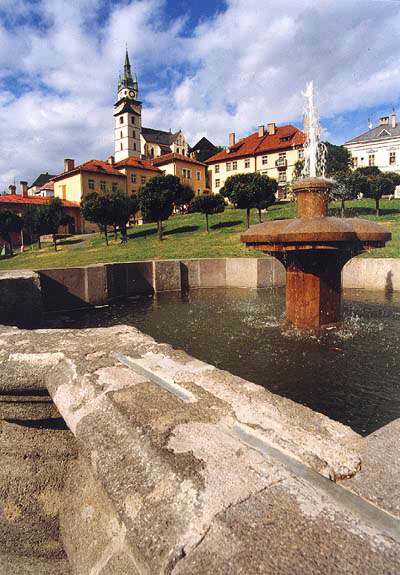 Štefánikovo námestie s barokovou fontánou
Thermal swimming pool "Katarina"
Description of the water in this thermal swimming pool is:
mildly radio active
strongly mineralised
with healing properties
especially suitable for joint pains and muscle aches
its well is 900 metres under the ground where its temperature is 46 degrees of Celsius
it comes out at the temperature of 36 degrees of Celsius
In the same complex you can find three pools, fitness centre, sauna, buffets with fast refreshment, tennis courts, gym, athletic stadium and football stadium. The swimming pool is open from June till August and fitness centre as well as sauna is open all year round.
Telephone number: +421-45-6742855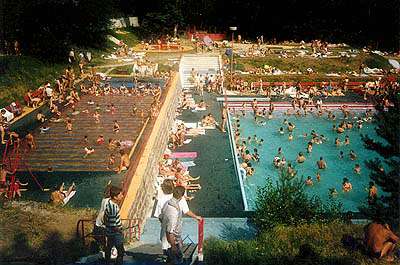 Termálne kúpalisko Katarína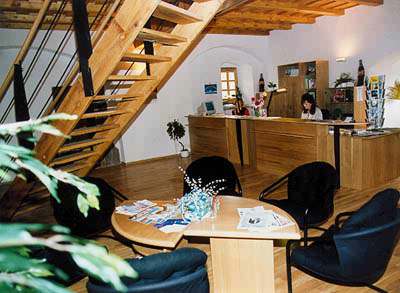 Informačné centrum v bráne mestského opevnenia Barbakan

The Information Centre in Kremnica
Nowadays, visitors of Kremnica are not only attracted to gold mines but to the rich historical background and monuments in Kremnica. The surrounding of the town is very nice and offers hiking in nature and plenty of winter and summer sports. We are looking forward to seeing you in Kremnica! Contact us, please, at:
Informacne centrum mesta Kremnica
(The Information Centre in Kremnica)
Stefanikovo namestie 35/44
967 01 Kremnica

Phone/Fax number: +421-45-6742856
Information phone number: +421-45-16186
E-mail: infocentrum@kremnica.sk