Podhájska rank among the oldest villages of Slovakia. The first written mention about the settlement called BELEK is from 1075.

The village lies in the southern part of the heights called Pohronská pahorkatina in the altitude of 170 m. It consists of 2 parts - Belek and Svätuša. The population is 1250 inhabitants. Most of them dedicate to agriculture and vineyards. Many people from the village go to close or far-away towns for their work and jobs, thanks to much frequented railway line Nové Zámky-Levice-Zvolen and bus line, too.

There are 2 churches in the village, Primary school, modern health centre built in 1982, post office and council office built in 1971. Modern railway station providers its services since 1976.

In the village there are 5 grocer´s shops and a network of restaurants and pubs or taverns. During summer holidays an open-air cinema is in operation.

THE THERMAL SPA OF PODHAJSKA
Hot rich in minerals, therapeutic water streaming under the village of Podhájska became a base for building a spa.
The spa lies on the area of 14 ha behind the railway line between the towns of Nové Zámky and Levice. Since 1973 when in the deep of 1900 metres a geothermal well was drilled arose a new spa complex consisting of 2 sitting pools with thermal water, 2 swimming pools (25 m), a pool for children, playgrounds and solariums.

Beautiful nature of the highlands called Pohronská pahorkatina offers various occasions for tourism, walks, cycling, skiing, surfing and fishing in the nearby lake and fishpond.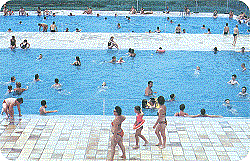 The temperature of the thermal water in ist well is 83 °C and provides 50 Liter per second. The temperature of water in the sitting pools is 33 °C, in the winter min. 36 °C. This hot water rich in minerals contains 6,69 g cations and 11,024 g anions per a litre and in similar to the water in the sea, especially to the water in the Dead Sea.

This water has therapeutic impacts on the people with problems with breathing, skin eczemas, joints.

In the neighbouring village there is an institute for children with this so called dermo-respiratory syndrom that provides everyday-bath in the village of Podhájska.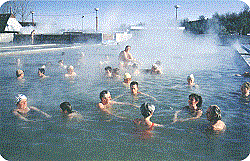 The spa complex provides various opportunities for individual as well for collective recreation in the summer and also in the winter.

There are 7 and more days stays available in the hotel near the spa. They provide services for organizing "schools in nature", swimming courses, excursions...

Accommodation and catering
Hotel "BORINKA" with its capacity of 96 bed in 2 or 3-beds rooms and 2 suites provides services such as breakfast-in the price of the room and also other meals serving in the nearby Restaurant TERMAL, café, telephone, massage, sparkling - bath, electro-treatment.
The capacity of the restaurant is 90 places. Many social events are hold in this restaurant such as wedding ceremonies, family parties, evening parties etc.

During the summer season buffets with refreshment and drinks are available for the tourists and visitors. They are near to the pools in the area of the spa.

You can also buy fruits from inhabitants and other people in the market in the front of the spa complex.


CONTACT:
HOTEL BORINKA: ++421/35/6586 195
RESTAURANT TERMÁL: ++421/35/6586 132
THERMAL SPA, COMPLEX SERVICES: ++421/35/6586 126, ++421/35/6586 195
TRAVEL AGENCY: Phone/fax: ++421/35/6586 295