On the right bank of the lower flow of the Hron river in the southeastern part of the Podunajská lowland on a fertile plain is spread village Šarovce.

Village has a rich history described in detail in a publication written by a proffesor, archeologist Bohuslav Novotný under the name Šarovce.
The first written mention of village originates from the year 1245 where is mentioned as "Villa Saro". The biggest expansion village noted in the 18th century when people paned for gold in the Hron river, horse-breeding dominated and all handicrafts were represented to be related to agriculture and processing of agricultural products.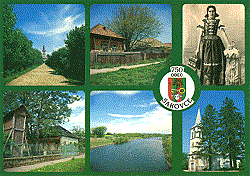 pictures from village Šarovce
Points of interest, remarkables and rarities

Šarovce is a modern multicultural village of present-day. On a fertile plain for cultivation of agricultural commodities farm agricultural cooperatives and private farmers. Except drainage village has a complete infrastructure (water, gas, electricity, connections, sewage tank) and other free buildings suitable for doing business.

A very good geographical location in view of doing business and tourism. After the bridge Mária - Valéria across the Danube river being constructed, village Šarovce will be one of the starting points which people will be passing through in the frame of mutual tourism with Hungary.

In spite of the fact that there are suitable conditions for doing business, alas there are a few businesses:

GROSZ Internationale Spedition & Trading - an international freight transport
Baška - reparation of motor vehicles
Private farmer - Klára Kiššová - greengrocer´s
Services Šarovce (protected manufactury) - separated scrap collecting (this service provides for 14 surrounding villages) - tel: 036/7792056 and is searching for partnership for better exploitation of raw materials.
Pubs - the Šport, the Gašpar
Grocery shops - ABC, ABC Plus, Granus, Jednota
The motorway restaurant Lagúna
T & M - an international freight transport,
Civil association "Spoločná budúcnosť" oriented to increase employment and education of the Gypsies, spending of leisure time in a dancing and singing group.
The Help centre - tel: 036/7792189, a private association for old lone inhabitants (15 beds), its part is a school for mentally disturbed children.

In addition to worth spending of leisure time in the village - on the banks of the Hron river, ponds or in hunter´s areas PZ Bažant or in area of TJ Klas Šarovce, village is a starting point for trips to thermal swimming pools Margita - Ilona (15km), Santovka (10km), Dudince (28km), Podhájska (25km), Štúrovo (30km).

Village will welcome every contact for enlargement of business. It possesses some free lands, free buildings, labour force. We are waiting for you!
Translation: Hošková