Association
Turčianska
Važsko
-Fatranská
Path

slovak


Turany
Attraction highlighting: Roman-Catholic Chronicle

<! ---------------------------------------------->
The settlement has got its own coat – of – arms in th year 1991. Black head of ox in silver field with seven modern stars. Together with the coat – of – arms was passed seal, stamp and standard which is made of three strips :blue, white, red. It is an unique sign comming out of Turany´s history.

Ancient of Turany proves Roman – Catholic chronicle. which says that before year 1300 stayed here little church built in gotic style. The oldest written mentions are preserved from the 14th century from the year 1367. Turany is birth – place of many personalities, the most famous is academic painter M. A. Bazovský.

Turany is nowadays the biggest settlement of Turec, it is situated in wonderful surroundings under the ridge of Small Fatra, which was declared for National Park Small Fatra in 1988. The highest top peak is Veľký Fatranský Kriváň, which is 1709 metres high.

It is a center settlement with history of lumber industry, developed agriculture, shopping net, cultural and sport possibilities.
<! ---------------------------------------------->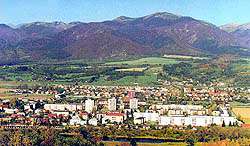 village Turany
Places of Interest

Position of this community is destined for active rest, possibilitiesfor tourism, skiing, cycling. In the area of the secondery school specified for woodworking and big sport hall, which is in primary school, are tennis courts of very good quality. They give space for organizing various competitions, games and tournaments. In the neigborhood is sport stadium with possibility of accomodation in the tourist hostel.

Turany has got rich history. Since the year 1997 is here regional museum, which assembles collection of historical documents, articles and examples of animals and vegetation which grow in this area. Regulary, settlement devotes its exhibition spaces for performing of jubelee expositions (100. annivarsary of M. A. Bazovský birth, 110 years of existence lumber industry in Turany, Pictures of Turany yesterday and today, Abroad for piece of broad).


<! ---------------------------------------------->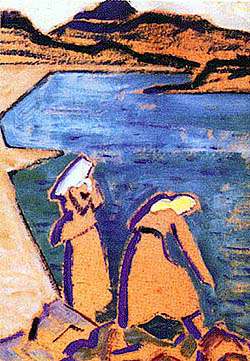 M.A.Bazovský, "Laundresses", oil, 1935, property of Turany gallery
There is exposed also typical folk costume of Turany, which was succeed to preserve. Especially male folk costume is very nice.


<! ---------------------------------------------->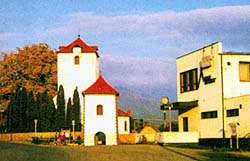 Roman-catholic gothic church of 14.st. and restaurant Kriváň


Tourist facility Marias Trusalová :
- is situated 5 km from Turany in mountains of Natural Park Small Fatra
- during the year are in service 100 beds and in the summer season 225 beds
- they offer accomodation, feed, ski and cross – country courses
- this facility is convenient for summer holiday aswell as for winter recreation for whole
family
Camping Trusalová:
- is situated in nice surroundings
- possibilities of accomodation are in bungalows and tents
- capacity of beds is 140 places, and tents 120 places
<! ---------------------------------------------->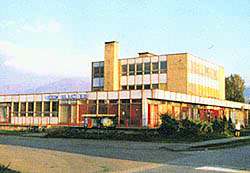 service centre
Entrepreneureal subjects



Agrofatra Turany s.r.o., Turimex spol. s r.o. Turany


Agrofatra Turany, spol. s r.o.
it was founded the 1st of January 1997 on the area of villages: Turany, Ratkovo, Šútovo, Krpeľany, Nolčovo, Konské and Podhradie.
it covers 3539 ha of agricultural land
business intention of vegetable production is growing of cereal crops, potatoes, fodder crops and in the future growing of technicial commodities - oil-plants.
Dominant in animal production is stock-raising, swines and sheep, milk production, butcher animals, sheep-cheese and wool.
Company is interested in general development of this country and in this frame mainly development of agrotourism.
It is one of the founders of the Association TV-FC and is active in its doings.
Company has its concrete intention of establishing and complex building up an agrotourist yard in the locality Turany - Trusalová.