The village is situated on the foot of the Malá Fatra (The Smaller Fatra), 12km to the east of Martin
There live 730 inhabitants.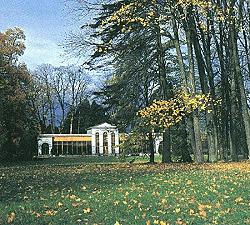 View of arboretum in Révay park


Places of Interest

Direction: country-side tourism, shows of traditional folk handicrafts and folklore
Specialty: a large Révay park with many sparse woods, arboretum and some ponds.
Accomodation: a standard log cabin in the mountains for 8 persons
Tours: Katova skala – 2 hours, Sklabiňa castle – 1 hour
Other attractions: In local park in addition to walking you can go fishing or visit arboretum connected with buying some woods. There is a local mineral spring – Mädokýš with an enjoyable sitting in a roofed pavilion with fireplace near the park.
In the village are to be shown and preserved many folk handicrafts: smithing, basket-making, weaving and wood-carving which products you can buy or do-it-yourself.

CONTACT:
Municipal office
038 51 Turčianska Štiavnička
Phone: +421/43/293 429, 293 435