Turčianske Teplice is situated in the south of the Turčianska záhradka (garden), 518m above sea level on the foot of spurs of the Great Fatra which with the Kremnické mountain and land of Lazy form a very beautiful frame round the town.

The biggest natural wealth of Turčianske Teplice are mineral springs and thermal waters.
The first written mention about thermal waters in the area of modern town is from 1281. Spa was founded on the basis of hot springs of medicinal waters of which temperature oscilates from 40,7oC to 46,5oC. In Turčianske Teplice as the only spa in Slovakia are healed urinary tract infections and diseases of kidneys. Famous and successful is the cure of motor functions not only of adults, but of children, too. Part of the spa´s area is a large park.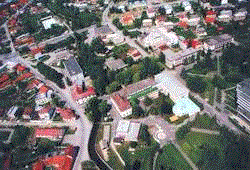 Centre of the town
From historical objects occuring in the town have to be mentioned the Blue bath from the 19th century, the Roman-Catholic Chapel from the year 1770 and native house of Mikuláš Galanda situated in the southern part of the town.
Points of interest, remarkables and rarities

The oldest historical object is the Roman-Catholic Church of St Michal in Turčiansky Michal from the year 1264. In this part of the town is a memorial house of I.Ž. Somolický, poet and nationalist.
In Dolná Štubňa is situated the Roman-Catholic Church from the end of the 16th century. The Renaissance monastery from the second half of the 17th century and the Rococo monastery from the second half of the 18th century will draw attention of visitors of the part Diviaky.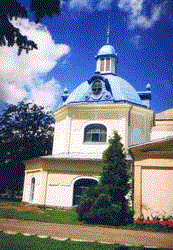 The Blue bath
Turčianske Teplice is an administrative, cultural and social centre of the upper Turiec river and a seat of district. Parts of Turčianske Teplice are local wards Diviaky, Turčiansky Michal and Dolná Štubňa.

Town thanks to spa, ambient conditions and wealth of nature beauties is an ideal place for repose, recreation and regeneration. In the summer time offers two thermal swimming pools, tennis courts, wide opportunities for walking and cycling, in the winter time an artificial ice-area, a surrounding ski-downhill with ski-lift and a qualitative racetrack.

A wide range of facilities of tourism represent guest-houses Milka and Panda, hotels the Lesník, the Vyšehrad, the Hotel G, the monastery in Diviaky, boarding-houses Relaxturies, pizzeria Lagazela, tavern U primátora, lodging-houses TJ Baník and ATC Diviaky.

Cultural activities: cinema, theatre hall, cultural houses, town library, cultural and information agency, the main organizer of cultural life in the town.
Translation: Hošková