Association
Turčianska
Važsko
-Fatranská
Path

slovak


Vrútky
Attraction highlighting: tourist paths and nature trails
<! ---------------------------------------------->
The town of Vrutky is situated in the northern part of the Martin district at the confluence of the rivers Vah and Turiec. It lies in the center of the Zilina area between the towns of Zilina and Martin.

The first written reference about this town dates back to the year of 1255, where it is found that ''Vrutky'' comes from the name of ''Villa Vrutk''.
The economic development indicates the fact, that there was already before the year of 1332, an independent Roman catholic parish with a gothic church of Saint John the Baptist from the year of 1285.

In the last decades of the 19th century, Vrutky changed from a farming settlement to an important railway junction. Vrutky was awarded the certification of a town status in 1960. Today, there are 7410 inhabitants residing in Vrutky.
The town and its surroundings offer plenty of recreational and sporting activities. During the summer time there is swimming and other water sports (public swimming-pool, water areas near Lipovec).
Hiking trails lead from Vrutky to the Mincol hill, then following to Martinske hole, to the respectively Stranavy, on the hill of Klacianska Magura, then from there it is possible to follow to the hills of Panosina, Suchy, Maly Fatransky Krivan, Chleb and the alternative to Sutovske waterfalls or to Vratna valley. It is possible for tourists to walk without great effort through the town park-forest between the towns of Vrutky and Martin.

Vrutky is also the starting point for a bicycling trail in the Turiec-Vazsko-Fatra areas. The course of travel to this area can be taken from the highway I/18, the railways Kosice-Zilina and the respectively Bohumin. The trail leads through municipalities of Lipovec, Turcianske Klacany, Sucany, Turcianska Stiavnicka, Podhradie, Nolcovo, Ratkovo to Krpelany, from there it is possible to continue to Orava and Liptov.
---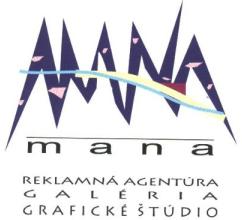 MANA

ADVERTISING AGENCY, GALLERY, GRAPHIC STUDIO

The whole advertising service
Sale of pictures, graphics, ceramics


Advertising partner provides all services in area of advertisement for the Association Turčianska Vážsko-Fatranská road: address cards, leaflets, placards, announcements, greetings, calendars, postcards, advertising and publicity panels.


Mgr. Vladimír Báthory
Sv.Cyrila a Metody 1
038 61 Vrútky