Village Palárikovo, the former name Slovenský Meder is situated in the southeast of Slovakia, in the Podunajská lowland, 13km from the district town Nové Zámky and 8km from Šurany.

Terrier of the village with its extension of 5129ha has a character of plain, with an average absolute altitude 113m. To the village belong local parts - Čiky, Ľudovítov, Jur and Žofia. Nowadays there live 4340 inhabitants. Transport is secured by two railway stations (Palárikovo, Ľudovítov) on the railway-tracks Nové Zámky - Bratislava, then by main road and adequate bus transport.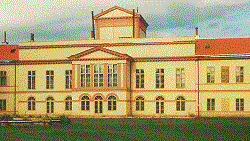 Monastery
A massive development of the village has been dated after the year 1960. The housing estate had been improved, technical and public facilities were built in stages, a shopping centre was constructed, too. A health care centre provides basic health services.

The integral parts of the village are great areas of street and park green. To the sights belongs the historical English park (52ha) with an adjacent well-known pheasantry, founded in the year 1752 and declared the protected natural landmark in the year 1976.
Points of interest, remarkables and rarities

CULTURAL MONUMENTS

The monastery
Built in the 1840s in Baroque style by the Earl Alexander Károlyi. In the year 1866 had Alojz Károlyi rebuilt it. Project was processed by the architect Mikuláš Ybl in Classicistic style.

The Roman-Catholic Church
Built in the year 1745 in former Baroque style. St. John Nepomucký was declared the protector and the patron of the village by inhabitants because of honour to their Moravian ancestors and probably under influence of the Moravian tradition to be reflected in village people in that time. On a wall of the Parish office which belonged to the oldest in the district is located a memorial tablet which is a mention of Gabriel Paulík - a priest, nationalist, a pioneer of bee keeping in Slovakia living in the years 1844 1882. Buried in a village old cemetery.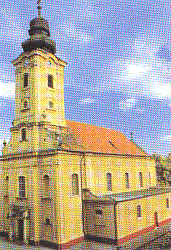 Roman-Catholic church
CELEBRITY

Karol Strmeň with his real name Karol Bekéni (April 9, 1921 - October 21, 1994) belongs to important representatives of foreign exile of the Catholic modernism. He was a poet, translator, journalist, pedagogue, literary critic, orator and university professor.
In the elementary school named after him there is located a permanent exposition of his literary work.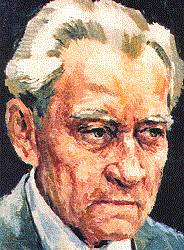 Karol Strmeň
SPORT AND CULTURE

The sports area of the Village gymnastic association represents opportunities of various collective sports, mainly football. The pond Barina serves for sports fishing. Water area can be exploited for recreational, relaxing-resting purposes.
Persons interested in sports shooting can use a shooting-gallery.

You can spend your leisure time in the modern Cultural House where cinema, library and a comfortable pizzeria are located.
Necessary services are offered for domestic people and tourists in several shops, pubs and restaurants.


OFFER

Village offers its not exploited buildings and lands for businessmen introducing some effecient project of using areas and not housing rooms for creating new jobs and establishing production or services.


INVITATION

You are welcome to Palárikovo, i.e. all visitors, tourists, but mainly hunters and fishers for knowing nature beauties and other existing sightseeing.


PHONE CONTACT:

The Municipal Office: 035/ 6493201
The Municipal Police: 035/ 6493458
The Post Office:035/6493216
The Health Care Centre: 035/6493214, 035/6493464, 035/ 6493275
The Roman-Catholic Parish Office: 035/6493601
The Cultural House: 035/6493427
Refreshments and boarding houses:
Snack bar "U Kaza" Pub "U Gity" Pizzeria "U Montyho" The Monastery: 035/6493209 (Forest company, o.z.Palárikovo)
Translation: Hošková