slovensky

mikroregion Severne Podpolanie





Poniky
Attraction highlighting: Roman Catholic Church of St. Frantisek Serafinsky

The earliest reference of the village of Poniky dates from the early 13th century. In 1400, Poniky were given a few town advantages. The main working activities were mining and civil engineering which gave the financial independence to Poniky. Gold, silver, copper, iron and tin were the major raw materials for mining in 14th - 16th century.

There are two main ways how to get from Banska Bystrica to Poniky:
- through Salkova, there is a natural reservation on the way from Poniky to Salkova
- through Dolna Micina and Horna Micina

Turkish invasions destroyed this village in 16th - 17th century. The most dramatic day in the village history is January 6th, 1678 when Turks invaded Poniky and 300 inhabitants were captured.
This tragic occassion is also mentioned in song and poem called Turcin Ponican (the poem was written by Samo Chalupka, a famous Slovak writer and poet). Jan Cikker's opera called Beg Bajazid also features libretto about this occassion written by Jan Smrek.
Points of interest, remarkables and rarities

Roman Catholic Church of St. Frantisek Serafinsky is the centre of the community life in the village. The major parts of church interior belong to the collection created by Majster Pavol of Levoca, these are: renovated gothic wall paintings dating from 14th century and side altar of Holy Mary and christening well dating from 1512. There is also a painting done by J.B. Klemens dating from 1871.
| | |
| --- | --- |
| | |
| Roman Catholic Church of St. Frantisek Serafinsky | Roman Catholic Church of St. Frantisek Serafinsky |
The village of Poniky has got another two parts - Ponicka Huta and Ponicka Lehotka. Ponicka Huta is a small settlement which dates from 18th century. A well-known Slovak writer, Gustav K. Zechenter-Laskomersky, spent a part of his childhood in here.

Behind Ponicka Huta there is a natural reservation Dubrava (dub = oak) which spreads across 10 hectares of land. Woods are rich in many sorts of forest fruit which attracts those who like walking and forest fruit picking.
Another two famous natives come from Poniky - Matej Kosec, the collector of folk songs and Stefan Zary, well - known poet.

Poniky is a village where traditional rural architecture is still alive and village costumes are part of village symbols.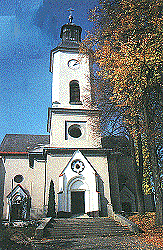 Evangelic Church
Translation: A.Bendíková