<! ---------------------------------------------->
Little town Mošovce lies in the skirts of Malá Fatra and at the ending valley of Turiec.
The first notice about the place is from the king Ondrej III's donation deed from the year 1233. At first, it started to develop as a royal settlement with a free administration. From the 14th century it was a privileged town subordinate to the royal castle Blatnica. The village changed the proprietor for the Révay familiy, which suppressed the rights of town for almost 400 years.

Mošovce was an important craft center of the Turiec region. The production of craft workshops expanded, which proves the presence of 15 guilds. The longest lasting one was the shoemakers' guild and the most famous was the furriers's guild.



<! ---------------------------------------------->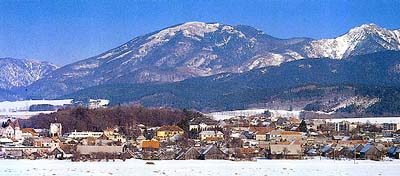 view
Places of Interest


Today's Mošovce could be described as a significant recreation locality with plenty of noteworthy things. Among the architectural monuments there is a rococo – classicistic manor house from the 2nd half of the 18th century with a large English park. Another interestingness is a memorial place of Ján Kollár's birth house or a Neo-gothic church, which was built in the place of the old church with a precious altar. More there is a Lutheran church from the year 1784, a mausoleum with a museum of crafts and a garden pavilion from the year 1800 presently reconstructed.


<! ---------------------------------------------->

There is also a sports and recreation facility Drienok with pools warmed up by solar energy, accommodation in an apartment and cottages, a high school with a large sports hall and accommodation, bowling and a livery offering a possibility for horse riding. The village Mošovce has exceptional surroundings. A complex of alleys and verdure makes up a tasteful and impressive mosaic-like divided country which is very sensitive continuation of the forest complexes Veľká Fatra mountain range. These mountains belong to the most attractive in all Slovakia. Limestone and dolomite rocks of fantastic shapes, unbelievable beauties of Gaderská, Blatnická valleys attract natural beauty admirers from far countries.

<! ---------------------------------------------->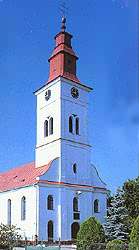 Lutheran church

Spiritual culture and folklore traditions:
Many important personalities were born in Mošovce. The most famous are: a composer Frico Kafenda (1883 – 1963), writer Anna Lacková Zora (1899 – 1988), literary critic, historian and poet Štefan Krčméry (1892 – 1955).

The most important of them all is a great Slavic poet, philosopher and an evangelical priest Ján Kollár (1793 – 1852). He gained immortality in two national literatures at least by his poetic work – Slávy dcera. The work influenced patriots of his time and the later generations of his followers. It got into the Slavic and non – Slavic world in original and translations and brought glory to its creator forever.

Contemporary literature and traditions are represented by a children folklore group of Mošovce named Drienok, a poet Jozef Tatár and the Mošovce majorettes.

A tradition of typical fairs with the folk crafts was renewed five years ago. In addition, there are a regional exhibition of small animals and poultry, exhibition of fruit and vegetable. The fair has various shows and competitions. It takes place regularly in Kollárovo námestie (square) and the adjacent streets the first Saturday in October.

Other regular events are Volleyball Cup ( the last week of August), Fatransko-strážovský cyklomaratón (the bicycle marathon taking place in the region of Fatra and Strážovské vrchy), horse-race, dog yoke competition and dance competition which take place irregularly.


Retailer's chain and service sector:
There are 3 grocery stores, butcher, drugstore, houseware shop, 2 shoe shops, mercery shop, gas distribution center.

In addition there are hairdresser's, shoemaker's, tailor's, video tape rental, 3 carpentries, leather dyeing , distillery, 5 restaurants, 2 snack bars and a wine-room.

Recreation, leisure and tourism :

Mošovce is center of recreation and tourism of Horný Turiec. There is a sports and recreation complex built in the southeastern edge of the village, in the street Na Drienkoch. Visitors can avail three swimming pools warmed by solar heating system, tennis-court and a volley-ball field. Another option is to play football in the football ground and sport archery behind the recreation complex. There is also a training college with an international standard sports hall, fitness center and a sauna. There is a possibility for bowling, playing pool and darts.


<! ---------------------------------------------->

The village serves well as a departure point of marked footpaths for tourists to Drienok. There are available trips to the most beautiful valleys of Veľká Fatra region, especially the Gaderská dolina and Blatnická dolina (the valleys). In the opening of Gaderská dolina, there is a ruin of the castle of Blatnica (Blatnický hrad). One can start climbing the mounts Ostrá and Tlstá from the village. In the skirts of the mountains in the altitude of 800 m above sea level, there is a cave called Mažarná with proved findings of eneolithic man. There is an English park of 16,5 ha to the extension for the purpose of pure relaxation for peace loving visitors.



Directions of companies (accomodation and facilities) :

ŠRZ Drienok Mošovce ltd., Na Drienok 460, 038 21 Mošovce – tel.: 043/4944162
SOUPaR Mošovce, Na Drienok 456, 038 21 Mošovce – tel.: 043/4944230, 4944195
Kolkáreň Pod bránou (bowling), Krčméryho 317, 038 21 Mošovce – tel.: 043/4944025
Pohostinstvo U Standy (restaurant), Partizánska 484, 038 21 Mošovce – tel.: 043/4944331
Klub priateľov koní DOMINIKA (horse riding), Mazan, 038 21 Mošovce – 0905/346689 ŠRZ
<! ---------------------------------------------->

Sports and tourism facilities :

Tenisové kurty (tennis courts): 6 (ŠRZ Drienok) 1 covered court (SOUPaR)
Horse riding: app. 20 horses (DOMINIKA)
Fishing: lake and stream
Ski lifts: the nearest is JASED, Čremošné (15 km), Martinské hole, Skalka (25 km)
Hunting: 2 associations of hunters
Tourism: departure point to the mounts of Veľká Fatra
Spa: the spa of Trenčianske Teplice (7 km)
Swimming pools: 3 swimming pools with a water solar heating system (ŠRZ Drienok), swimming bath
Bowling (Pod bránou), pool (restaurant " U Standy")

Miscellaneous:

Museums: Museum of the crafts, memorial room of Ján Kollár
Historical monuments: a Rococo- Classicistic manor house, an Art Noveau greenhouse, mausoleum, 2 churches, birthplace of Ján Kollár.
Natural reserves: Natural preservation – Mošovské aleje (the alleys of Mošov), park
Ponds: 9 ponds, 8 of them rear trouts.
Cave: Mažarná cave ( placed in the skirts of Tlstá mount, 800 m above sea level)


E-mail contact of the village: