Zemplinska Sirava is the 12th biggest lake in Europe which is very suitable for recreational activities such as swimming, water sports, fishing etc. A part of the water surface represents a natural reservation which is important for birds moving from one place to another.

Zemplinska sirava is:

11 km long
3.5 km wide
the coverage of surface is 30 - 33 km2
average depth is 9.5 m
maximum depth is 14 m


New research work discovered a possibility of geothermal wells below the bottom of Zemplinska Sirava. The temperature of those wells could be about 60 - 80 degrees of Celzius. The use of them could positively influence the lenght of season in Zemplinska Sirada and attract more and more visitors and tourists. It could also contribute to better expoitation of accommodation facilities in the area.


The presentation of recreational areas OKAL and UNIMO: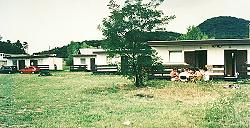 recreational area Okal - Medvedia Hora
OKAL - Medvedia Hora and UNIMO - Kaluza are both cottage areas where visitors can find a good standard of accommodation. They are situated between Vihorlat which is a local mountain complex and Vychodoslovenska nizina which is a well known local plain. The area around Zemplinska sirava, where both accommodation facilities are placed, is very attractive. It is also suitable, as an accommocation, for fomilies with children.

OKAL has got 4 beds and UNIMO is a bit more luxurious and has its own shower, WC, radio, fridge and fully equipped kitchen. The price for accommodation also contains the entrance for the recreational zone.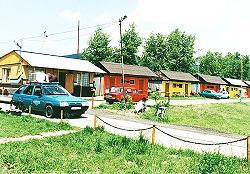 recreational area Unimo - Kaluža
Attractions of this area:

VIHORLAT - this small mountain complex offers some beautiful views and is very suitable for walking. It is known for a huge forest where quiet and untouched areas can be found. It is highest peak is also called Vihorlat and is of volcanic origin. Its height is 1067 m.
MORSKE OKO (Sea eye) - it is one of the state natural reservations in the middle of Vihorlat. It was created as a small lake by landslide and earthquakes in the past. There are many Canadian trouts and crayfish in the lake too.
SNINSKY KAMEN - it is a massive stone situated above Morske oko which still shows lava trails. The foothpath from Morske oko leads through to Sninsky kamen and the walk there lasts about 1 hour.
SOBRANECKE KUPELE - this spa town is one of the odlest in the Slovak Republic. The first written reference about monks who used healing wells of this area, dates from 1336. This spa specializes in rheumatic, stomach and intestinal diseases.
VINNE CASTLE - this castle was built in 13th century on the volcanic rock. Nowadays only some remains of ruin exist.
JASENOV - this ruin dates from 14th century and was an important protection against Tatar's invasions.
BREKOV CASTLE - was built in 13th century and is known for its undiscovered cave parts below the castle


Contact:
Sprava cestoveho ruchu Zemplinska sirava
072 36 Kaluza
Director: Jan Hresan
Translation: Bendíková